This is Thelma.
Our lovable School Dog has been working with us from the age of 8 weeks old. Now nearing 2 years old, she is a much loved and valued member of the school team.
Thelma is excellent with children; she has grown up surrounded by them. Watching her sit or stand calmly as children lavish attention on her, it is clear to see she is very content.
What does Thelma do?
Thelma's role in school is to help everyone with their wellbeing.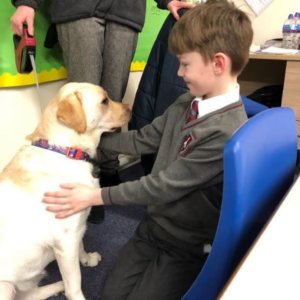 She is always out on the playground in the morning to greet children and parents, she walks children into school if they are feeling a bit down and has even been known to visit children at home!
Different classes involve Thelma in their curriculum work. She has helped Year 2 with their writing, been orienteering with Year 1, and looked for bugs and insects with Explorers club.
Thelma will visit our Nurture room to get some attention from the children in there. She helps them to be calm and relax.
What training has she had?
We began Thelma's training with a Puppy Obedience course at 12 weeks old. Here she mastered sitting, laying down, waiting and basic recall.
Next she took on the challenge of a Foundation course, where her skills were strengthened. Her recall is excellent, she will wait for a treat, leave things she is not allowed to have and even do an emergency stop!
Very soon, Thelma hopes to join a Good Citizen Dog Scheme to go for her Bronze Award. What a clever girl!